Virtual Coater (NASCAM)
is a software suite to simulate the deposition, surface diffusion, nucleation, film growth, evolution of surface structures, and evaluation of their physical properties.
It is based on kinetic Monte Carlo method, and allows the deposition of millions of atoms in short time (< day).
It allows to mimic film growth based on vacuum deposition methods among others.
Within the framework of a virtual coater (see right), the user defines the condensing species as well as their energy and angular distributions. Those can be found in litterature or evaluated analytically or computed by using plasma simulation. ICS can help for that (contact us).
The film is then grown and the user can analyse its properties thanks to a friendly GUI interface.
NASCAM can be used to:
Complete, interpret, critically analyse and synthesise new and complex information from experimental findings (laboratory or industry).
Assess product quality in coater upscaling process.
Illustrate courses on nanotechnology, plasma deposition, thin film growth ...

...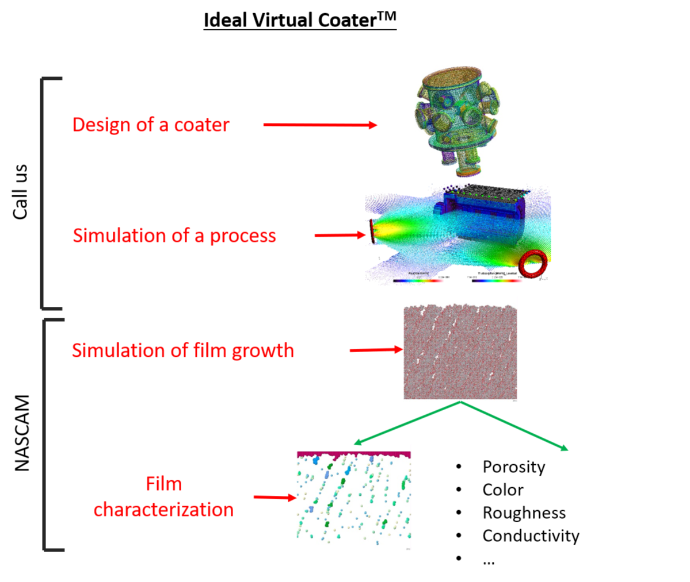 V 4.8.X
(Current version)
Windows OS, integrated GUI

1D, 2D, 3D (substrate and deposition)

Two types of structure: cubic and hexagonal

Multilayers

Simulation of metal and reactive deposition

Surface diffusion based on fixed list of thermally activated events

Five deposition fluxes per layer: two metallics, two reactives and one neutral. Combination of Me and Me+, and R and R+, and Ar+ is possible

Energy and momentum transfer from incident fluxes to the substrate or a growing film

Resputtering

Rotating and tilting substrate while deposition

Deposition through a mask

Improved plugins (require NASCAM 4.8.X and later)

Commercial software

Annual proprietary software licence
V 5
(For ICS use, service and future release)
Windows OS, integrated new GUI

1D, 2D and full 3D (substrate and deposition)

Numerous crystal types: orthorhombic (primitive, face-centered, body centered), hexagonal, triclinic, amorphous, user defined, poly-crystals

Multilayers

Unlimited number of condensing species per layer (neutral, ions and molecules)

Standard and user-defined surface physico-chemical reactions

Surface diffusion based on modular list of thermally activated events

Advanced energy and momentum transfer model for very high energetic species

Resputtering and re-evaporation

Rotating and tilting while deposition

Deposition through a mask

Advanced plugin (e.g. FDTD)

Commercial software